Lorain Couple's Only Son Killed in Viet by Rocket
By Tom Oney
Staff Writer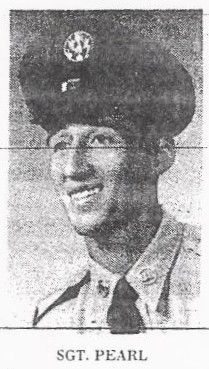 Richard Pearl would have been home from South Vietnam this week. Monday his parents received his letter stating he would be on his way home "a few days after you receive this letter."
YESTERDAY morning as Mr. and Mrs. Pincus Pearl of 2308 South Jefferson Blvd., Lorain were getting ready to go to work, an Air Force representative told them that their only child had been killed.
"He had been counting the months, the days. I was so happy when I got his letter Monday." said the mother of the 32-year-old Air Force sergeant. "It's something when all your hopes and dreams are gone."
She talked in a state of shock. Her eyes were constantly wandering and voice wavering.
"He was a telephone cable antenna specialist." she began. "He enlisted in 1960 and went all over the world. But this was his first year in Vietnam.
"He got out of the service in 1964, and worked for General Telephone Co in California. He re-enlisted in 1966, and was told he wouldn't be sent to Vietnam." she said.
"I can't believe it." her husband muttered. "I never thought it would happen to him. He was a non-combatant. He was in charge of the alert system on the base and not allowed to leave." he said.
The letter brought to their doorstep read. in part:
"...was killed in action in South Vietnam on July 21 as the result of injuries received in a rocket attack on Phan Rang Air Base... He was walking in the base exchange parking lot when an incoming rocket round impacted approximately 25 feet from him. He was struck by flying shrapnel..."
"I advised him not to go over," said his father. "He didn't want to go to Vietnam. They told him when he re-enlisted he wouldn't have to go. And then he got a letter that said he was the only squadron that could do the work and he had to go."
"He wanted to make the Air Force a career." said his mother. "I used to get a letter every 10 days or two weeks from him. Then we didn't get a letter for three weeks. Monday his letter came and yesterday the other one did." she said.
The Lorain High graduate is survived by his parents, and wife Lisa of Sacramento, Calif. Funeral arrangements are incomplete.
Hometown article courtesy of David Jaynes